December 2, 2021
Last week, we had the honour of accepting a donation of two artworks  from Annette (Annie) Keil-Taggart. In 1967, Annie finished Year 10 at St Patrick's School, which was the predecessor school of Catholic Regional College and Mercy Regional College.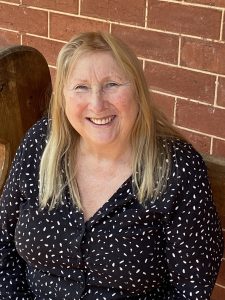 ---
Annie is hoping that her artwork will encourage Mercy students to travel to remote places in Australia and overseas to experience different cultures. 'I believe it's important to have things around us that broaden our horizons. Learning from other cultures and people helps us all live a much fuller life', Annie says.
Annie remembers being inspired by paintings and scrolls from the Bible that were hanging on the walls at school when she was a student.  She recalls, 'Those images truly stirred my imagination. I was fascinated by all the stories they conveyed and I was deeply touched when I was reminded of those stories in my travels to Israel'.
Annie's artwork reflects her rich and fulfilling life journey. The donated paintings of a girl from Belgo and a boy called Stephen Russell are a flashback to the time when Annie worked in the desert supporting the education of local communities.  'Stephen was my sister's foster son.  Sadly, he died at an early age.  I depicted him with a pair of wings as I always think of him as my little guardian angel.  He was a very kind boy.'
We are grateful to Annie for her kind donation. Her artwork will find a worthy spot on the walls of the College to give a glimpse of Annie's life story to the younger generations.