Houses
---
The four Houses at Mercy Regional College received their current names in 2004. Before that they had only been referred to as the colours. The House names represent four groups of individuals that played a significant role in the formation of the College.
---
The Houses incorporate all school related activities that Mercy Regional College students are involved in throughout the year. The aggregate shield – the McLeod Shield – is presented to the victorious House at the end of Term 3.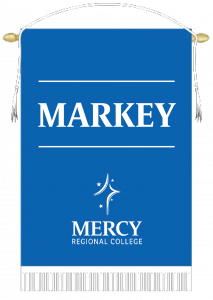 Markey
Representing the Priests
Named after Fr Robert Markey, Parish Priest of Simpson at the time of the creation of the Catholic Regional College in 1973. Fr Markey supported the families who wanted their children to have a Catholic education founded on Gospel values. His tenacity and drive are forever remembered.

Frayne
Representing the Sisters of Mercy
Sister Ursula Frayne was a noted educationist who established the first Catholic secondary school for girls in Victoria and made the first Mercy Foundation in Australia. Ursula Frayne was a forward thinking woman who found ways to support all who were in need of education, whether rich or poor.

Tindley
Representing the Principals
Mr John Tindley was appointed as the first Principal of the newly formed Catholic Regional College in 1973. He was an innovative and brave man, never giving up hope that he could ensure the growth of Catholic education in the region. Although John Tindley began with limited resources, his hard work and dedication ensured the success of the school from its first days.

Ryan
Representing Parents, Staff and Students
Sister Beda Ryan was the Principal of St Patrick's School, Camperdown in 1972 and was a member of the first staff of the newly formed Catholic Regional College in 1973. Desmond "Dinny" Ryan and his wife Mary were members of the Catholic Regional College and Mercy Regional College staff for many years. They have been synonymous with dedication, service and commitment to the cause of Catholic secondary education in the region.