Car Raffle 2023
---
The annual Car Raffle is a long-standing tradition at Mercy Regional College. It has been a significant contributor to the funding of essential learning resources, facilities and equipment for our students over the past 49 years.
Our 2023 Car Raffle will be drawn at our 50th Jubilee Dinner on November 25.
Buy 2023 Car Raffle Tickets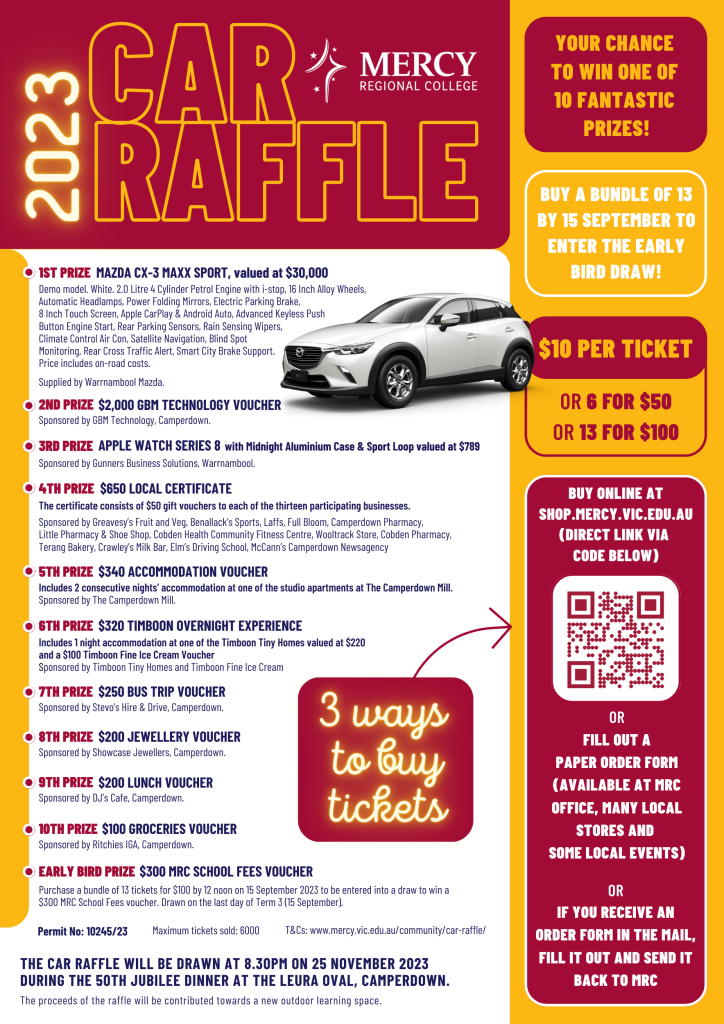 ---
2023 TERMS & CONDITIONS
The Raffle commences on 21 July 2023, and closes on 25 November 2023 and will be drawn on 25 November 2023 at REID STOCKFEEDS FUNCTION CENTRE, LEURA OVAL, 15 ADENEY STREET, CAMPERDOWN VIC 3260 at 8.30PM. Details of the Winner(s) will be displayed at www.mercy.vic.edu.au and social media. This raffle is being held for MERCY REGIONAL COLLEGE 15 Henderson St, Camperdown, VIC, 3260.
Permit/Licence for VIC 10245/23
Maximum tickets sold: 6000
Early Bird Draw
Every person who purchases a ticket bundle of 13 tickets for $100 before 12 noon on 15 September 2023 will be entitled entry into an Early Bird Draw for a Mercy Regional College Fees Voucher valued at $300, manually drawn on 15 September 2023 at 1.00pm at Mercy Regional College, Henderson Street, Camperdown VIC 3260.
Odds
The odds of winning the stated prizes based on the total possible ticket sales displayed are: 1st Prize 1/6000, 2nd Prize 1/5999, 3rd Prize 1/5998, 4th Prize 1/5997, 5th Prize 1/5996, 6th Prize 1/5995, 7th Prize 1/5994, 8th Prize 1/5993, 9th Prize 1/5992, 10th Prize 1/5991. 
Prizes
Prizes are not transferable or redeemable for cash. 
Some images are display only and may not be a true reflection of the prize.
1st Prize Mazda CX-3 MAXX Sport, demo, valued at $30,000
2nd Prize GBM Technology Voucher, valued at $2,000
3rd Prize Apple Watch Series 8 Midnight Aluminium Case with Sport Loop, valued at $789
4th Prize Local Voucher Package, valued at $650, consisting of vouchers:
$50 Greavesy's Fruit and Veg, $50 Benallack's Sports, $50 Laffs, $50 Full Bloom,
$50 Camperdown Pharmacy, $50 Little Pharmacy & Shoe Shop, $50 Cobden Health Community Fitness Centre, $50 Cobden Pharmacy, $50 Terang Bakery, $50 Crawley's Milk Bar,
$50 Elm's Driving School, $50 Wooltrack Store, $50 McCann's Camperdown Newsagency
5th Prize Accommodation Voucher (Camperdown Mill, 2 consecutive nights' accommodation in a studio apartment) valued at $340
6th Prize Timboon Overnight Experience, valued at $320, consisting of vouchers:
$220 Timboon Tiny Homes (1 night accommodation), $100 Timboon Fine Ice Cream
7th Prize Bus Voucher (Stevo's Hire & Drive), valued at $250
8th Prize Jewellery Voucher (Showcase Jewellers), valued at $200
9th Prize Lunch Voucher (DJ's Cafe), valued at $200
10th Prize Groceries Voucher (Ritchies IGA Camperdown), valued at $100

Early Bird Prize MRC School Fees Voucher, valued at $300
Paper Order Forms
By completing and returning a paper order form, you consent to the College collecting, retaining and using the personal information provided by you to enter you into the online draw. Your personal information will be kept confidential and will only be used for the purposes of the raffle. Personal information held about you by Mercy Regional College can be accessed by contacting the College on 03 5593 2011. The number on your paper order form is a receipt number only and will not match your number in the digital draw. Paper order forms must be received by MRC on or before 20 November 2023 to allow for processing.
---
Gamble Responsibly
We encourage responsible gambling. Only spend the money you can afford to lose.
---