March 2, 2021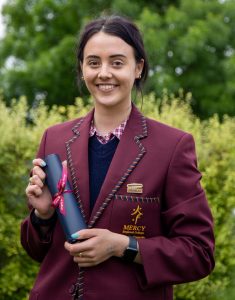 As students across the country start their Uni studies this week, a dream is coming true for our 2020 College Captain Gemma Harry. Gemma is off to Melbourne to study paramedicine at Australian Catholic University.
Gemma has always been interested in helping people and has cherished the dream of becoming a paramedic for more than 3 years. She worked hard at school studying English, Maths, Health, Biology and Psychology in Year 12, and was beyond excitement when she was offered an early entry to ACU.
'It's very nerve-wracking, but I'm very excited', says Gemma.
Gemma is fascinated by how rewarding paramedicine is, 'Establishing great connections and knowing that you have saved many lives make all the challenges of the profession well worth it'.
'I'm looking forward to doing lights and sirens' admits Gemma. 'I watch 'Paramedics' TV series all the time and I love it. People think I'm obsessed when I talk about it!'
Gemma is following in the medical footsteps of her older sister (Alexandra Harry, Class of 2010) who works as a psychiatric nurse in Melbourne.
We wish Gemma all the best for her studies. We are certain that she will make a wonderful paramedic.