February 8, 2023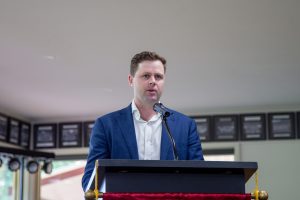 We were fortunate to welcome Lester Powling from the Class of 2006 as the guest speaker at our Graduation Dinner on Friday. In a most inspirational speech, Lester described his pathway from an MRC graduate to a successful Property Development Manager with Development Victoria.
Lester admitted that he wasn't the best student at school. "I certainly didn't finish on top of the class. I left my graduation disappointed with my performance and lacked confidence in my academic ability. Nevertheless, I was motivated to move on, work hard and start my building apprenticeship, commencing the day after my final exam."
Lester followed the advice given to him by his teachers Mr Lachie Lee and Mrs Mel Kavanagh – "if you don't get something at first, keep practising until you get it."
After finishing his apprenticeship in Camperdown, Lester moved to Melbourne at the age of 22, where he worked in commercial construction for a few years. In 2012, he moved into a senior role, completed a diploma of construction management, and obtained his residential builder's licence. At that stage he realised that he wanted to do more than just construction and he applied for a property degree at Deakin University. He was accepted even though he did not have the required ATAR. It was the experience he gained alongside his construction management diploma that helped him to get in.
At the end of his last year at Uni, Lester's grades were in the top 5% and he was accepted for an internship as a property analyst in Shanghai, China, which was an incredible experience. When Lester graduated from university, he was offered a position as a project manager for Hallmarc Developments, a property developer managing 50 town houses in Point Cook. Following this, he worked in development consultancy before finally moving into his current role with Development Victoria and doing his Master of Business Administration at the University of Melbourne. "My most prominent project is 'Luma', 300 townhouses and a town centre in Sunshine, and I also manage an 80-lot land development in Ballarat."
Lester reminded Year 12s that career pathways are rarely straight. His insightful message to the Class of 2022 was, "It doesn't matter how you start or where you go after you leave today; you can take all kinds of avenues and going to university is not the only one. Everyone should go out and start connecting the dots. And start making decisions as often as they can, listen with an open mind, seek feedback, and work hard. The worst thing you can do is not make a decision and stagnate."
We thank Lester for sharing his wonderful story with our Year 12 community.
If you would like to become a guest speaker at any of MRC events, please contact our Alumni Coordinator Katya Belokon at alumni@mercy.vic.au.